News
signNow — perfect esignature solution
As numerous businesses are operating online nowadays, the electronic signature has become the most needed tool for everyone. Only if you have it you can sign and send documents online, create agreements, provide contracts negotiations, work with payments, and make your business processes automated. With signNow you can create and enjoy such a signature and stay safe and well-protected.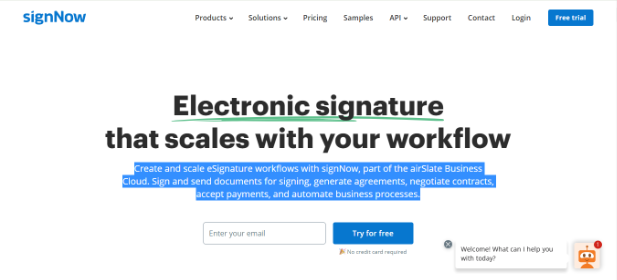 Benefits of signNow
If you want to expand your workflow and take management to a better level it's high time for you to discover advanced eSignature solutions from signNow. The set of useful tools will help you to work faster and with great results. For signing any document you'll just need only your desktop or mobile device with a signature app.
Other benefits of the company and the service provided are as follows:
Quick to start and user-friendly service
The service is equipped with an intuitive interface. Therefore, newcomers can easily create an account, upload all the necessary documents, and complete their first signing in a few minutes. For using this service you do not need special training or education or other requirements.
The best competitive price for the greatest solutions
No more predatory pricing or hidden costs! With signNow the payments are always transparent and there are no overcharges or some extra unexpected costs. You can select the subscription plan that corresponds to your needs and enjoy the reliable service with affordable pricing.
All the necessary features for business
Here you'll find a wide range of solutions especially for teams and improving their collaboration. No problems in remote work. All the documents can be made completely visible and the signing process is advanced. Thus, everything you need can proceed fast and secure.
Free 7-day trial
If you want to discover the service in detail and get acquainted with all the main features by yourself, do not hesitate to use our free trial. You can enjoy it for seven days that is enough to understand all the advantages and find the best suitable solution for your business.
Enterprise-grade security
The signNow corresponds to all the global security standards and requirements. While using our service you do not need to worry about the safety of the procedures.
Additionally, our client can create role-based online documents with a signing order and send them to all the recipients for their signatures collection. Each and every document can be converted into a reusable template. That means that signing will be no more time-consuming.
How to Add Your Signature?
If you need to add legally your electronic signature to some document, with signNow you can use any device, no matter where you are located. For this purpose, first and foremost, you will need to create an account or log in with a login and password.
Click on the Profile icon. Here you can add and update any personal information. All your existing signatures and initials together with a stamp will be located here. Do not forget to set up email notifications. That helps to stay informed about requests for your signature from partners or clients.
In order to sign the documents follow the next steps:
At the top of the screen there is an upload button. Clicking on it you can add a sample from any device where it is saved.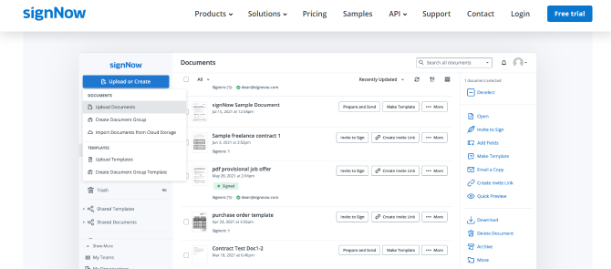 Then you'll need the left-hand panel. After scrolling down you'll find the Edit & Sign toolbar. In the mobile application of the signNow there is a special section with these tools.
You need My Signature button. Click on it to add a new signature or to use the one that you've already saved in the system.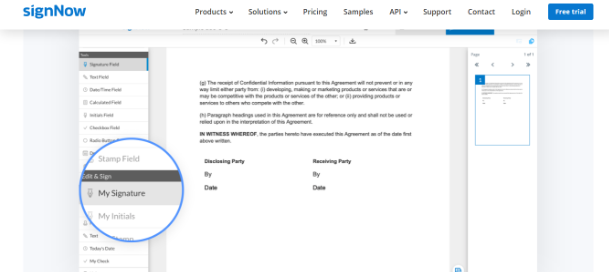 In the menu that appeared you can type your name, make a draw, or upload any image in .jpg, .png, or .gif format. If you are typing there are the range of styles, from which you can choose the most preferable one.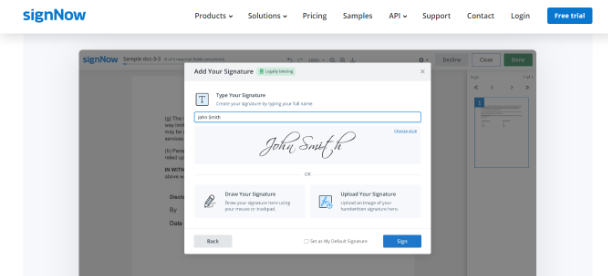 Then select My Initials, which can be added near the signature if necessary.
Your stamp can be also added here if needed.
The button with 'Date' creates the proper date of signing.
To finish the process save the information and close the bar.
Inside the 'More' menu you can further send the document for signing, download the sample, make an archive, create a template, get the copy, etc.
In a nutshell, it's quite easy and fast to sign documents with signNow. You will definitely save your time and all the documents and signing process will be always available for your needs.
Additional Advantages
If you would like to know the process in-depth and discover more details, here is the list of signNow best offers:
Integrate your account via an API. Then you can have access to it anywhere and anytime.
Documents can be organized in groups and automatically send to the recipients. You can choose even the order of sending.
All the documents can be shared via an invitation link. So, no more problem if you do not know the email address of the recipient.
If there are the same documents that you need to use many times, just create a template and add customizable fillable fields. That will save your time.
Teams can be created inside the system to work together with the groups of documents.
Your branding and logo information can be added to the signature to promote your company.
Remember that all your data stay highly protected and safe.
Do not wait any longer to get your first experience with signNow.
newsmaniaweb.com Premium warehouse of News.